Use of Mobile Bank Alerts in securing of Bank Accounts
Before the advent of the mobile phone, parents taught their children how to balance a checkbook, they received monthly bank statements and had to keep detailed records to guarantee money was in the account and checks didn't bounce. There was no such thing as a phone bank or an internet bank—everything was done on plain old-fashioned paper. We take a look at Use of Mobile Bank Alerts in securing of Bank Accounts .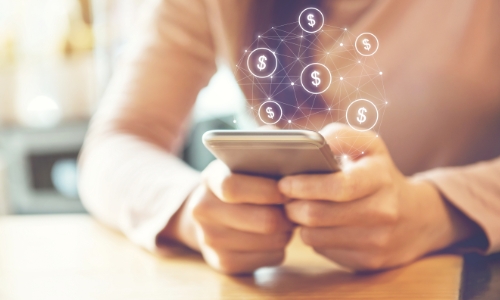 Those days, however, are long gone. Most individuals don't use checks unless they have to, and you can check your account promptly using your banking app or computer. Not only will you be able to view what's going on in real-time, but you may also have your bank give you financial alerts via your smartphone Or you could save yourself some time and set up customized alerts that will notify you automatically. Alerts can make it easy to monitor your deposits, payments, withdrawals, fees and balances.
In a world when fancy apps allow you to deposit checks from your phone, using text messages to check your bank account balance may seem ancient.
When money enters or leaves an account, most banks provide email or SMS alerts for any transactions.
These Alerts have been so useful for detecting fraudulent activities. The sooner you get the alert the sooner you are able to report a situation like this, the more likely your bank will be able to fix it and return any missing funds to your account.
Some banks offer push notifications, which appear on your mobile device as banners or badges, in addition to email and SMS messages. Push alerts are often set up and configured through your bank's mobile app.
Getting started with Banking Alerts
First and foremost, there are many types of alerts. Most banks will give you alerts if there is any questionable activity on your accounts, but you may also set up other alerts to keep a watch on your accounts.
Some banks just enable you to set up email alerts, while others allow you to set up email, text, and push notifications. You'll need to decide on the following as you schedule alerts:
Which accounts do you wish to be notified about? (i.e., checking, savings, credit cards)
* How frequently should those warnings be sent?
* For which transactions do you wish to set up alerts?
Remember that if you use both debit and credit cards, you should set up notifications for all of your accounts to get a complete view of your financial situation.
Complete Guide on How to become a Uber Driver in Nigeria 2022
Common Banking Alerts
Banks utilize a variety of alert systems, but most provide at least some that you may set up and configure yourself. You can also get alerts that you didn't ask for but that your bank considers critical.
You may not require all of these phone notification bank account alerts, depending on your circumstances, but you should have at least some of them activated.
1. Alert for Unusual Activity
If your bank discovers potentially fraudulent behavior, you will receive an SMS alert. This is common if your account's spending is odd, or if transactions are made outside of your usual travel location. When you're on vacation, these notifications are popular, and if they're set up, your bank will typically send you a text to confirm that a transaction was made by you.
2. Bank Alert for Mobile Deposits
When you or someone on your account uses their smartphone to snap a picture and submit a check, you will receive a notification. It serves as a receipt for mobile check deposits and can be a useful tool for keeping track of your bank account activity.
3. Cleared Check Alert
You can use this alert to keep track of when checks clear in your account. This way, if a larger check doesn't clear right away, you'll be able to see the status of your deposits immediately away and won't be tempted to spend money that isn't yet available.
4. Low Balance Bank Alert
One of the most popular bank alerts. It alerts you when your bank account balance falls below a certain threshold. Most banks will allow you to choose any threshold you want, whether it's $1,000 or $20. This can help you avoid costly overdraft fees or overspending, as well as know when to put off purchases that aren't necessary.
5. Big Purchase Alert
If you have a joint account, this notice is extremely useful. It alerts you when a large sum of money is about to be debited to your bank account. If you don't recognize it, you can immediately find out if someone else does and avoid overdraft in your Bank account or being a victim of fraud.
6. Password or Profile Change Alert
If someone tries to modify your password or profile, this bank alert will notify you. Of course, you may have to do this yourself at times. If it's not you changing the password, it could be a symptom of account theft or hacking, and it's critical to respond quickly. When it comes to the best security procedures for mobile banking, this is one of the most essential warning Alert.
7. Alerts for Large ATM Withdrawals
This is yet another warning that will notify you if your bank account is behaving strangely. If you just withdraw $40 or $60 from the ATM on a regular basis, getting an alert when someone withdraws $500 is useful because you can double-check that it's truly you or an authorized account holder.
8. Security alerts
These alerts let you know when critical events occur to your account, including changes to your login (username or password) and profile information (address, email, or security questions), or when your account has been locked (such as when the wrong password has been repeatedly entered).
9. Secure message alerts
From time to time, your bank may send you updates about your account. These alerts can tell you when it's time to log in and check your messages.
10. All Debit Card Purchase
This bank alert isn't for everyone, but it can keep you up to date on what's going on in your account at any given time. It can also alert you to transactions that occur at unusual hours of the day. However, if you use your card frequently, it may become excessive.
Bank alerts can be extremely beneficial in keeping your bank account in good shape. They can, however, be invasive and irritating. As a result, it's a good idea to pick the most useful ones and cross the rest off your list.
Why Are Bank Alerts so Valuable to You?
Cancel unwanted services.– If you sign up for a service with a limited-time offer, a "bill higher than normal" alert may be sent to inform you when the offer expires so you may decide whether or not to keep using the service.
Cancel duplicate services.– A "payment made" notice could help you identify and eliminate a duplicate charge if you and your spouse both sign up for the same service.
Avoid unnecessary fees.– If your spouse pays a large bill or makes a big purchase with a check or debit card, a "payment made" alert could help you avoid an overdraft or account maintenance fee due to a lower balance.
Protect your credit scores– If you have a mortgage, a vehicle loan, a student loan, or a personal loan, or if you use credit cards, "payment due" alerts can help you remember to pay your bills on time. On-time payments help you avoid late fees and play a big role in your credit score.
Use of Mobile Bank Alerts in securing of Bank Accounts
Alerts are not only useful, but they could also make you feel better about your banking experience overall.
Banking alerts can help you manage your finances more easily – but only if you pay attention to them. Take a moment to read a banking alert and see what's new with your account as it arrives , either as an email, notification or message. Also, don't hesitate to contact your bank if you notice anything that appears to be fraudulent behavior. Acting fast on a banking alert can save you a lot of trouble in the long run if it means preventing fraud before it causes major damage.
Many banking institutions have mechanisms in place that do not require you to enroll in order to warn you of suspicious behavior on your account. To receive these critical messages, make sure you keep your bank's contact information up to date.