HOW TO GET A LOAN FROM XCREDIT.
A loan is an amount borrowed to be returned within a speculated time. Xcredit is one of the organisations that give out loans to members with the expectation to pay back during a period with a little interest on the amount borrowed.
Need arises at times when an individual is not financially buoyant to respond to a financial need. You can consider borrowing a loan from Xcredit and pay it back at a more comfortable time.
HOW TO GET LOANS FROM 9CREDIT
This article aims to give detailed processes and procedures to get a loan from Xcredit, how repayments are made and other cogent steps to be taken before taking the loan.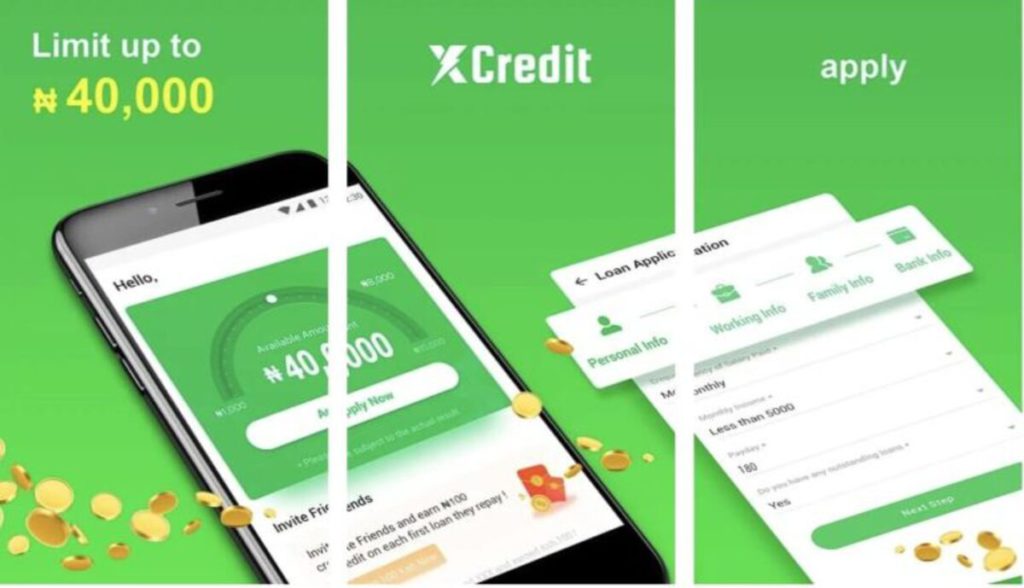 XCREDIT LOAN REQUIREMENTS
A few requirements are needed to be able to qualify to get a loan from Xcredit. They include some personal information and details on getting across to you. Don't doubt your qualification for your loans on Xcredit, they are very simple details.
They are;
You must be above the age of 18.
Your phone number. So that you can be reached by Xcredit agents.
Your account details. An account you will receive the money you want to borrow.
Bank Verification Number (BVN) and some other personal information.
An android phone to download the Xcredit app from Google Play Store. It is only available in the Android version, iPhone users cannot download the app.
HOW TO GET A LOAN ON XCREDIT.
Getting a loan on the Xcredit platform requires some procedures to achieve it. They are simple and easy.
1. INSTALL THE XCREDIT APP
Install Xcredit mobile app on your phone. You can Download the Xcredit mobile from the Google Play Store and install it on your phone. It's not available in the IOS version, only on android. There is also no web version of the app.
2. REGISTRATION
As a new user, you need to register your details. This would require you to fill in some details about yourself. Your Bank Verification Number (BVN) and some details. HOW TO GET A LOAN FROM ACCESS BANK
3. APPLICATION FOR LOAN
You can proceed to apply for a loan after becoming a member of the platform. The management from the back end will process your application and subject it to a review.
Your application for a loan on Xcredit would be denied if your BVN is connected to fraud before the time of application. It can also be rejected if you are yet to complete your repayment of a loan from another loan platform.
4. RECEIVING OF LOAN
If your BVN is cleared from past fraud and you are not owing to any other loan company, your application would be accepted. The amount requested would be paid into your account. Your repayment would increase your chances of getting a higher loan on the next request.
HOW TO REPAY BEFORE THE DUE DATE
It's important to make repayment of the loan before the due date to avoid extra charges for late payment. The payment method on Xcredit is a very simple one. If you follow the following steps carefully, you will make payment with ease. All processes are done on the mobile app on the phone.
Open the Xcredit mobile app on your phone.
Click on "My loan" button
Select the loan you want to repay.
You will see the "Repay in advance" button. Click on it to move to the next page.
Confirm all the information on the page and press the "Repay now" button
You will have to choose your preferred repayment method before clicking on the "pay" button
You will get an update on your Xcredit mobile app dashboard. Your repayment would be reflected on the dashboard.
IMPORTANT THINGS TO NOTE ABOUT REPAYMENT
You need to repay your loan on or before the deadline of the set date. Delay in payment after the deadline attracts an interest of 2% per day after the deadline. The 2% of the amount borrowed tops the total amount that is to be repaid.
In addition, late payment of loans reduces the loan limit for the next application.
Repayment must take place within 180 days from the day of disbursement.
The total amount to be paid is the amount borrowed + interest. An additional amount would only be added when the repayment is late. And that can only be determined by the number of extra days from the due date to the date the payment is made.
HOW MUCH LOAN YOU CAN GET FROM XCREDIT.
Xcredit gives loan from #5,000 to #500,000. Xcredit is one of the online loan platforms that offers up to #500,000 loans to customers.
However, to get the highest limit on their loan range you must have been consistent with your
past repayment on the platform. This means that your repayments are done before the due date and your BVN is not connected to any fraud.
New users won't be able to borrow large amounts. Their loan limit increases based on repayment.
RATE OF INTEREST ON XCREDIT
Only 12% of interest is charged on every loan collected. The amount to be paid is the total amount borrowed plus 12% of the amount.
The loan plan cannot exceed 180 days (6 Months). Repayment after this period would attract a 2% fine on a daily basis.
LOAN TERM ON XCREDIT
Loans are repaid from 91days to 180days on Xcredit.
WHAT HAPPENS WHEN YOU OVERPAY
After overpaying the expected amount needed on Xcredit, there is no need to worry. Xcredit will refund the amount of money paid in excess into your bank account within 15 days.
WHAT TO DO WHEN REPAYMENT OF LOANS DOES NOT REFLECT ON YOUR DASHBOARD.
You need not bother if your repayment doesn't reflect on your dashboard. You will just have to contact customer care to lay your complaint. The error would be rectified in no time. You can send a mail to . You may be asked to send any proof of payment of the transaction to get it fixed.
HEAD OFFICE OF XCREDIT.
You can reach Xcredit agents online and also physically. The head office is located on the 2nd floor of Wing A, South Atlantic Petroleum Towers 1, Adeola Odeku Street, Victoria Island, Lagos State Nigeria.
CUSTOMER CARE.
You can send your complaint to .help@xcredit.cc